Which airfield is located on Mount Elbrus?
Mount Elbrys mysteries.
An interesting fact is that people asking a question about which airfield is located on Elbrus usually mean not active landing area for aircraft (by the way, there are many helipads in Elbrus region, but there are no airdromes), but a place associated with aviation only with its name. I'll try to tell this story, which excites the imagination of mountain lovers, prone to collecting legends and strange unexplained facts.
Not a single peak of Caucasus is shrouded in such a dense veil of secrets and mysteries as the two-headed Elbrus. Many stories are connected with this mountain, some of them are completely invented, some are based on real events, and some stories just have no logical explanation. It is not surprising that Elbrus is so closely connected with local and tourist folklore - this mountain, which is visible from all over the Caucasus, at all times inspired the bold people for feats, poets - for composing ballads, storytellers - for creating fantastic images.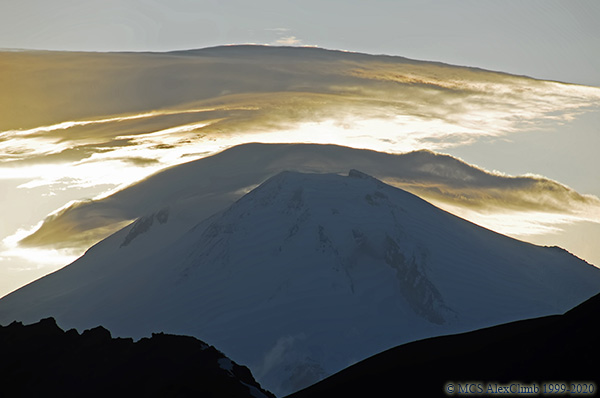 Regardless of whether you are a skeptic or a dreamer, no one can deny the fact that many strange and inexplicable incidents occur on the slopes of Elbrus. For example, the number of missing people at this mountain - a lot of disappearances were not disclosed, and the victims were not found. The reason for that can be explained by the specifics of the relief - numerous deep crevasses, which are a mortal threat to anyone who goes astray and loses track on the glacier. Or repeated instances of the unexplained death of groups of tourists who run away from the tents in panic and were found frozen not far from the abandoned camp. Or cases of very strange behavior or complete insanity of people while climbing Mount Elbrus - this may partly be due to the influence of a lack of oxygen, but there may be other, less obvious reasons.
Among the unexplained legends of Elbrus there is the story of the "German airfield".
The legend of the "German airfield" is connected with the period of World War II, when the Hitler army tried to seize the resources of Caucasus - the Baku oil fields, the Tyrnauz mines, where tungsten and molybdenum were mined. At that time, there was a battle over the passes of the main Caucasus, while on the northern slope of Elbrus it was quite calm. German military climbers, after fighting on the southern slope, occupied Shelter 11 and hoisted fascist flags on the both summits of Elbrus. There are few witnesses of these events, because the local Balkar people, immediately after the liberation of the Caucasus by Soviet forces, were subjected to repression and were almost completely deported to Central Asia. This tragedy of a whole Balkar nation, superimposed on the horrors of the occupation, left few opportunities for vague rumors and conjectures to be remembered.
Nevertheless, among local residents and tourists there is a legend that during the World War II, on the northern slope of Elbrus, strange activity of German aircraft was observed, which allegedly did repeated landings here. According to this legend, priests of some mystical cults were brought to Mount Elbrus to conduct very strange rites. Perhaps they tried to find a way to the mysterious mountain country of Shambhala or to open the door to another dimension.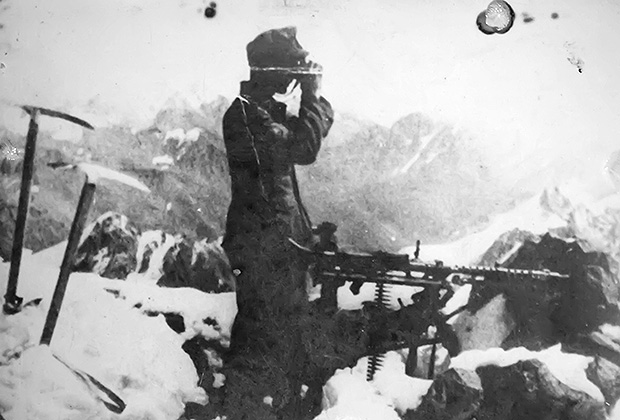 Despite the fact that there is no documentary evidence, the legend says that there were Tibetan lamas in the Caucasus. It is completely incomprehensible where the Germans could take these lamas - Tibet was very far beyond the activity of Germany during the Second World War. Nevertheless, the outbursts of folk fantasy painted a picture of almost global occult meaning. In deep secrecy, the Reich leadership sought mystical Shambhala and the keys to governing the world through the use of subtle matters. They had high hopes in their search for the highest mountain in Europe - Elbrus - after all, the slopes of this volcano have unconditional energy anomalies. This is definitely a real fact - magnetic devices behave strangely on Elbrus and inexplicable disappearances of people are observed... So, Hitler's secret plan was to control the energy flow of Elbrus and use it to gain access to control the course of world processes. For this, special equipment and personnel were delivered by special planes. Under the veil of secrecy and tight guard, some experiments and strange rites were carried out. After which there remained some rock pyramids in mysterious order and obscure metal structures.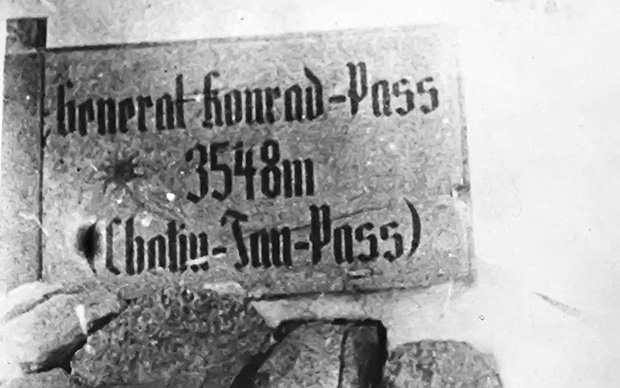 Being once in the Elbrus region, I was analyzing the post-war archives preserved in a private collection, and occasionally I stumbled upon a record of a story that has nothing to do with the German airfield, but nevertheless bears a hint of inexplicable mystery. During active hostilities in the Caucasus in the summer of 1942, the 2nd Romanian Mountain Division, after fighting in the area of Köndelen village, was forced to retreat towards Zayukovo lower along the Baksan Gorge. A brigade of 20 fighters was allocated for reconnaissance of the vicinity of the "910 height" and to search for a possible counter-offensive operation from the northern flank. No one from this brigade did return to the place of deployment and no signs of their death were found in the reconnaissance area. They just disappeared. Since then, many similar stories have occurred on Elbrus, but for some reason it seems to me that this particular story can be associated with the mysterious aircraft, which, according to rumors, visited the northern side of Elbrus in those hot days of August 1942.
How does a legend appear? I think for this, one insignificant fact and the presence of people with a rich imagination is enough - this can explain a lot of beautiful tales that have never been connected with reality. Regarding the "German airfield", it can be assumed that fascists really tried to open or even have opened the gate to another dimension. Or maybe they just landed there in order to equip this site for a reserve or auxiliary airfield to support combat units on the southern slope, where the German troops were fighting Soviet mountain units.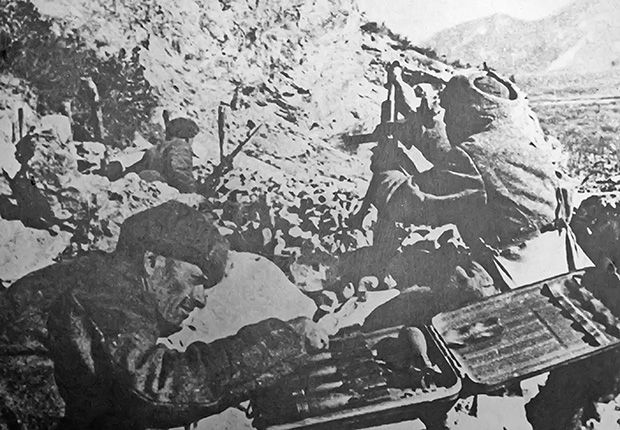 Now we cannot find the answer to this question. So, let everyone believe that he likes more! And the German airfield is a really strange place. A completely flat area of natural origin is located at an altitude of 2850 meters, its coordinates are 43 ° 25'44.89 "N, 42 ° 29'19.60" E. Many thousands of years ago, it was left behind by a glacier retreating along the slope of Elbrus. The dimensions of the "German airfield" are approximately 700x300 meters - this is quite enough for landing or take-off of a medium-sized aircraft. Several piles of rocks in the corners could well serve as landing points. But the iron pole in the middle is from the post-war Soviet era. It served to measure how deep is the snow cover and conduct meteorological studies.
Sometimes, on cloudy evenings, you can see that the fog above this "airfield" is arranged in concentric circles - this phenomenon has been noted more than once by tourists spending the night nearby. Perhaps this is due to the aerodynamic specifics of this place. Or maybe these are the ghosts of the missing brigade of Romanian mountain rangers who still roam in a circle, trying to find their path in the mountains and return to their base as they got lost in August 1942.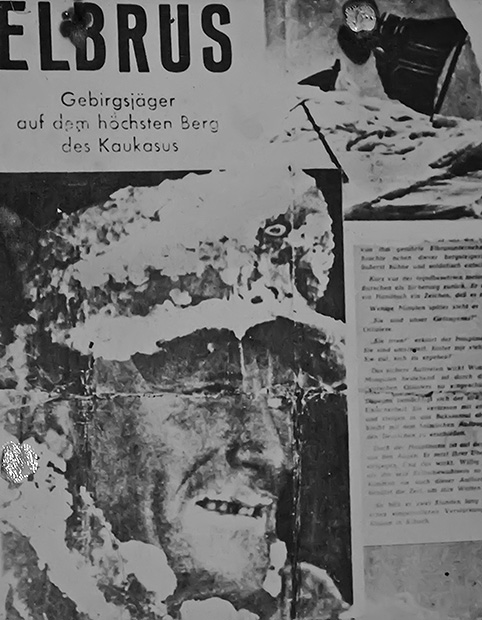 In fact, it seems to me that there is little romance in the fact that people disappear or die under strange circumstances, or commit obscure acts that they would never have committed in their normal life. So, the practical benefit of all the above-stated, may be that it reveals to us the real nature of the mountain, which, like a magnet, attracts lovers of all kinds of adventures. If you approach the issue carefully, it will become clear that the highest mountain in Europe is predatory and unkind in its nature - anyway, all the legends about this mountain are more sad than romantic. So, in order not to become a hero of one more Elbrus story, you need to be careful and consistent in actions, not to overestimate your strength nor experience, not to trust the apparent accessibility and easy look of the mountain - do not forget that many of those who have already fallen into this trap forever stayed with Elbrus and added to the long list of his secrets and victims.
Text — Alexey Trubachev, founder of the MCS AlexClimb mountaineering and climbing school.
Other related questions:
Our Principles

AlexClimb Rule #1 - Safety First
From the very beginning of our activity, here nearly 16 years, the first Principle of work of School of mountaineering and rock-climbing of MCS AlexClimb is the Safety Priority. On the basis of this Principle all process of training is based, all programs and rounds are developed and carried out only within this main principle. We consider that at professional approach to development of programs, at personal discipline and correctly put motivation - occupations by mountaineering and rock-climbing are COMPLETELY safe. And from the return - all troubles and accidents in our sport come from nonprofessionalism, from ignorance or neglect by elementary standards of safety, from irrational motivation, from revaluation of own forces and opportunities. All these prerequisites we COMPLETELY EXCLUDE in our work - ours Rock-climbing, Ice climbing and Mountaineering are based on one Principle - the Safety Priority. In rock-climbing, mountaineering and ice climbing, the Priority of Safety of MCS AlexClimb-is your personal security and comfort irrespective of, than we are engaged - we train muscles and we work technology of the movement in the sports hall and on the rock climbing wall, we make the way through snowstorm to top or we relax on golden sand of the Caribbean beach after hot day of trainings on rocks. The Safety priority - the main credo of School of mountaineering and rock-climbing of MCS AlexClimb.

AlexClimb Rule #2 - Leave No Trace
Closely interacting with Nature, working with the active programs in mountains, woods, lakes and rivers, we perfectly understand the importance of carefull and respectfull bahavior towards the Nature, for its resources. From the very beginning of our outdoor-activity we adopted rules of Leave No Trace technique - the standard of behavior of the person accepted in all the civilized world in relation to environment and especially - to the wild nature. After all on the relation of people to the nature near which they exist, itself can draw dalekoidushchy conclusions on the relation of these people to... Where and as we didn't travel - we don't reserve any garbage, we try to reduce whenever possible our influence on environment to a minimum. We clear earlier zagryazyonny tourist parking of the left garbage, we take out and we take out to utilization places that to us other people left there. We consider that only thus, at personal individual consciousness of each citizen, each tourist, climber or autotraveller, we will be able to keep the nature surrounding us in its state, natural, suitable for life, - in it pledge of the healthy future for ourselves and our children.

AlexClimb Rule #3 - Sober Concious
The position of AlexClimb Mountain and rockclimbing School regarding healthy lifestyle is quite clear - we consider that only sober consciousness is capable to fill sincere emotions, to sympathize, to enjoy life in all its variety. Bright various enjoyable life is possible only on condition of keeping the absolute sobriety and purity of consciousness. Any way of obscuring our perception of reality is intended to do harm to our consciousness and bring harm to our physical health, to replace the true values by false ones, to destroy us physically - to turn us into flabby, weak, senseless, gray herd with empty hazy eyes. We don't force anybody to our point of view, everyone has a God's gift of making his own choice and to destroy himself if that is what he wants... But in AlexCilimb Mountain Climbing School we accept quite certain and very simple set of rules: neither alcohol, nor drugs.
Настя / Эльбрус
Горы – настоящая любовь, сердце там теперь, конечно) боюсь за стены дома, уже мало места осталось)) В горах всё переходит на режим простой жизни и выживания, всё остальное уходит далеко – тревоги, беспокойства, страхи – всё мельчает и истончается, теряет значимость. Здесь реально знакомишься с собственной силой и слабостью, с изворотливостью ума, который привык скакать и создавать себе проблемы) Здесь ты общаешься напрямую с душой своего напарника и при этом вы не лезете друг другу в душу… Здесь ты общаешься напрямую с природой, наконец понимая, что это наша Мать, земля, она огромная и сильная, и мы её часть и с ней надо бережно, тк несмотря на силу и она бывает хрупкой… Здесь конечно с интересом узнаешь о том, что такое твои личные пределы и просто принимаешь и миришься с ними И во всем этом ловишь ни с чем несравнимый кайф! От чего?! От состояния другого восприятия себя и мира, и мира в себе, и себя в мире… . Выход из коробочки. Для меня это не выход из зоны комфорта – это обнаружение комфорта в дискомфорте. А это как раз про силу и ресурс! Кстати, каждый день я делала медитации, которым обучалась у Михаила Романовича Гинзбурга. Это вообще отдельная история. Именно там, в горах, на каком-то особом уровне прочувствовалась мудрость и глубина простых слов этих медитаций, которые, кстати, со многими из вас мы делаем на наших занятиях))
2022-07-01
Константин / Ледолазание
Собираюсь в следующем сезоне попробовать себя на технических маршрутах. Навыки лазания по льду и миксту - очень полезные, на скалодроме такому не научишься. Спасибо организаторам за интересно и с пользой проведённое время! Особенно запомнился кайф ходить в сауну после целого дня занятий на морозе!
2021-01-23
Дмитрий / Ледолазание
Спасибо за отлично проведённое время! Дружная и очень позитивная команда, приятно было с вами тренироваться и отдыхать! За неделю получил массу полезных навыков и ярких впечатлений, теперь понимаю к чему нужно стремиться и как готовиться
2021-01-16
Все отзывы