Mountains, icehole and energy
Read in Telegram in English
Leer en Telegram en Español
The idea of this text came with the question of how to prepare for the mountains. Further, more questions were pulled up to the topic about physical endurance, constant and varied climbing training, bathing in an icehole and other actions that are not entirely clear to most of my non-climbing friends.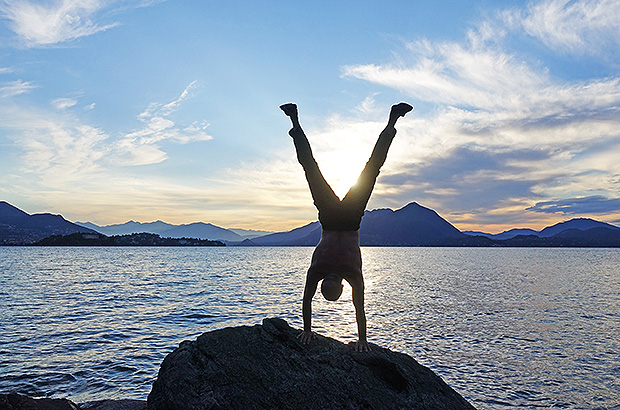 Gymnastic training on the shores of lake Lago Maggiore, Italy
Some connection was clearly guessed, but in order to formulate all this into a theory, it took a little time. Strange as it may seem, it was spurred on - Russian Baptism tradition, people drowned in an icehole, the crowd of those who fell ill after playing with all that sorts of church rubbish...
Having read the news about these nonsense, I decided to share my own experience, which still helps me to maintain my health and quite a decent level of activity in various areas of life including mountains of course.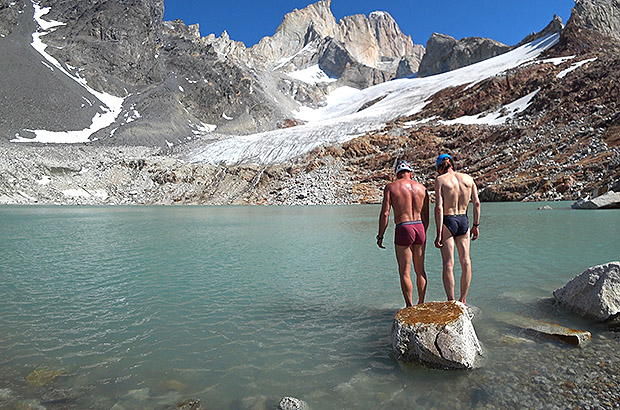 Swimming in a mountain lake at the foot of Mount Fitz Roy, Argentina, Patagonia
Let's figure out what hardening of your body, health promotion and preparation for complex physical activity are? After all, these are the elements that are mostly needed for comfortable travel and safe climbing in the mountains. I immediately apologize to the educated specialists - the following text is unscientific, is not confirmed by any official research, and in general - this is my personal point of view on my own subjective experience, to which I have full personal right. I am ready to accept any constructive criticism and to continue the discussion of the issue.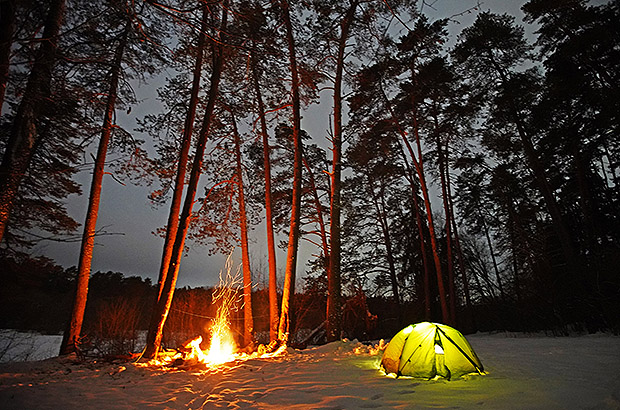 Our traditional Russian celebration of the New Year by the fire, with an overnight stay in a tent and a morning swim in the icehole. No TV and alcohol
I often say that human body is an accumulator for energy. What kind of energy is this - that is a separate question. But the principles of the battery - they work very well. In order for the battery to charge faster and more fully, this battery must be discharged regularly. Not to a zero point, otherwise you can die stupidly, but up to 15-20 percent. And then to be fully charged. If these cycles and amplitude are regular, then the power and capacity of the battery will fluctuate and even increase. And vice versa - if you leave a discharged battery without charging for a long time - it will be weak, quickly give up the rest of the energy, will be charged for a long time and never reach the complete level. Do you understand this analogy?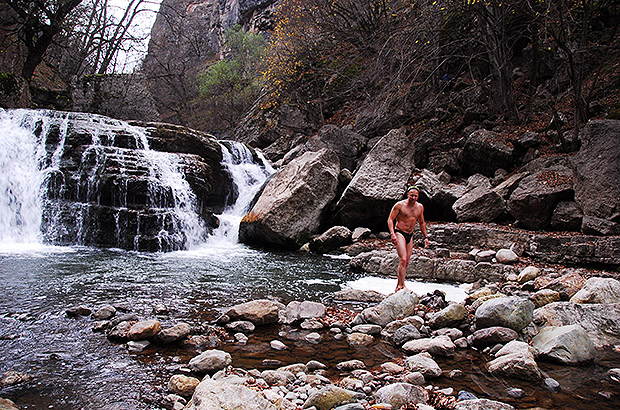 Refreshing bathing in a mountain waterfall during a winter trekking in the mountains of Armenia
The specific of my work is that I spend a lot of time under a very intense physical load. Having accumulated a lot of experience in various situations of different levels of severity, I can say that it's not about our physical strength, not about endurance and not about having any special skills - they can help us to optimize the energy consumption, but they have nothing to do with its acquiring and preservation.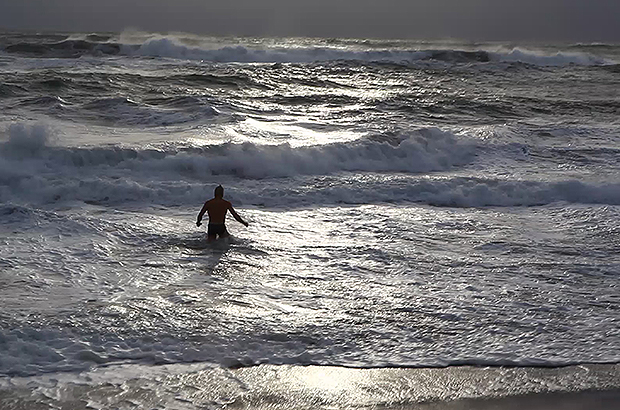 That was a very extreme event - trying to bath in the Pacific Ocean in winter in Kamchatka. Water temperature was below zero level
I hope that you have already understood - that I am trying to formulate the idea of some kind of universal energy that is used in all the processes of our life. Our immune system of our body also depends on the amount of this energy - it works as protection from aggressive external factors, as well as efficiency in any field of the activity. Health, quality of life and life expectancy are also directly related to the amount of this energy and its regular replenishment. However, where this energy comes from is a mystery.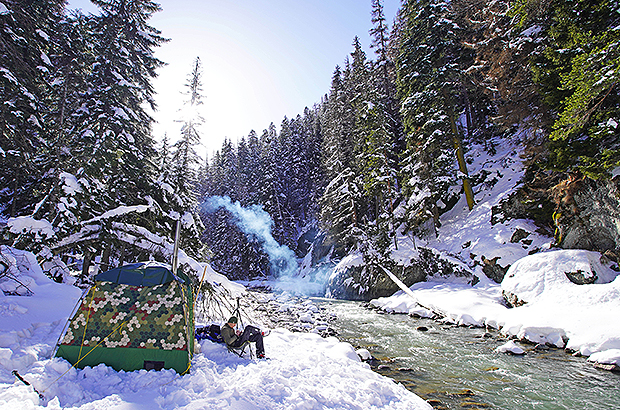 Spa treatments after iceclimbing training on the frozen cascades. Caucasus
It can be noted that there are factors that stimulate the accumulation of energy:
• positive emotions
• lack of stress
• regular training (cycles of discharge-recovery of the "battery")
• quality and healthy food
• minimum of aggressive environmental external influences
On the contrary - factors of the increased energy consumption:
• stress, hate, negativity
• lack of physical activity
• overweight
• nutrition that does not correspond to the load and to the characteristics of the body
• alcohol, drugs
And what does swimming in an icehole have to do with it, and why, in my opinion, traditional baptismal bathing is absurdity and obscurantism?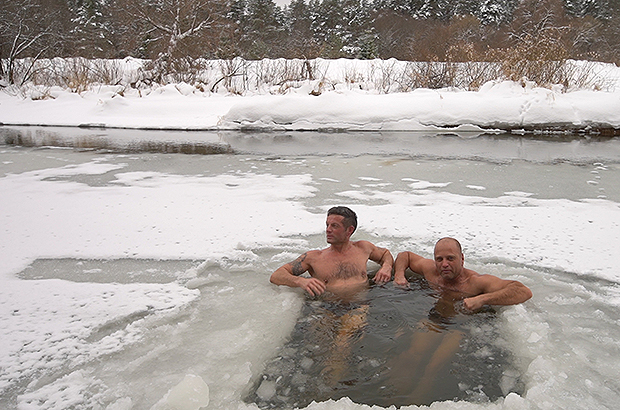 The only fault of this photo is that there is no martinis and mulatas in this picture. All the rest is not worse than in Bali
Any critical load on the body, be it cold, heat or physical overload, is a way to quickly spend the energy, and the purpose of this action is to prepare our "battery" for the next charging cycle. Those who regularly bathe in an icehole know this feeling - as body burns after cold water. This is the flow of blood to the surface of the skin - the body's reaction to a sharp hypothermia.
The release of energy is colossal in that case - but it will be good for health only if your "battery" is well prepared and ready for such loads. This only can be achieved by regular training. So if you bathe once a year for the sake of some "traditions" - this has nothing to do with your health.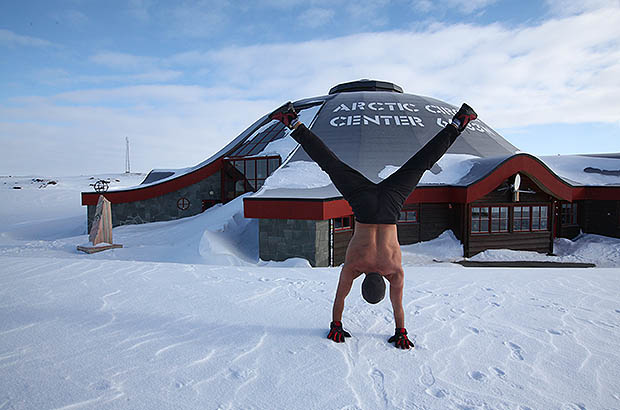 How else could I mark my crossing of the Arctic Circle in Norway if not by a handstand?!
The fact is that we need energy, among other things, in order to maintain the protective functions of the body - our immunity. Excessive energy consumption leads to a weakening or failure of this protective function. So you should be careful with an icehole - the consequences can be very diverse and not the most pleasant ones.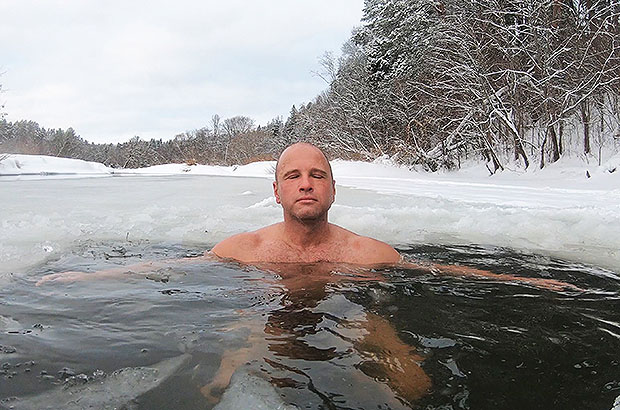 Regular bathing in cold water is the best way to relieve stress and renew the energy.
As an example, after some difficult mountain climbs, many climbers got herpes on their lips (which is a sign of a failure in the immunity). As well as an increased risk of any chronic or new diseases, even those which are not directly related to the specifics of the mountain climbing load. Twice this happened to me in the form of an unexpected severe allergy to hell knows what, each time against the background of serious physical exhaustion in the end of the climbing season. This was a sign that more energy got spent than it should have been, and the body began to spend the "emergency reserve" without having time to recover.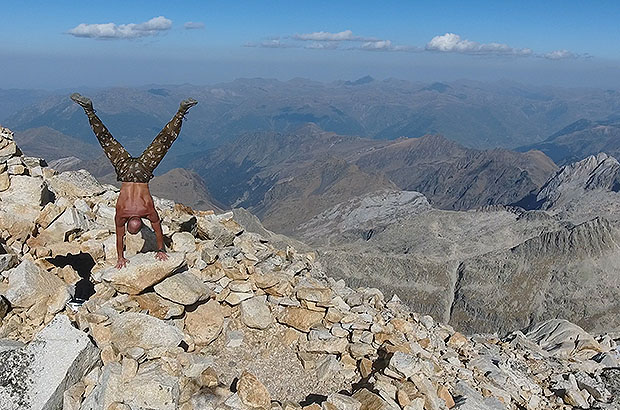 Handstand on summit of Peak Aneto - the highest mountain in the Pyrenees, Spain
I can state it from my own experience that the amount of energy and the amount of physical strength are completely different things. Many times I have crossed a dangerous line, having enough strength not to stop in time and go beyond the safe energy expenditure.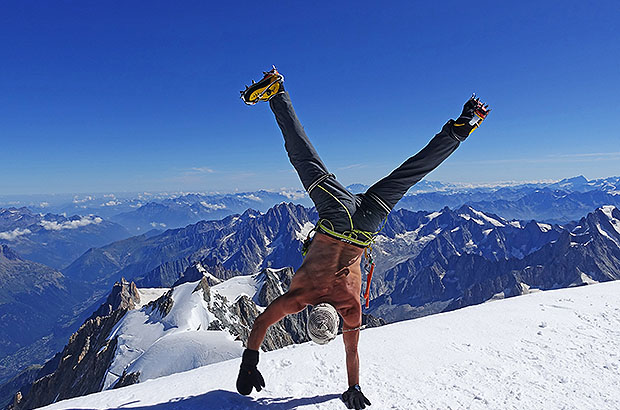 My traditional summit handstand - on the top of Mont Blanc, France
Here, I will tell the story of how, having a lot of strength, I almost died from a complete discharge of my "battery" during a high-speed ascent to the Peak Aneto, Spain - this is the highest point of the Pyrenees, an easy mountain with a altitude of 3404 meters. It was in the end of September, the very end of the mountain climbing season, I was in excellent physical shape, acclimatized and well trained. Behind my back were more than 40 difficult climbs in Caucasus, in the Alps and even in South America.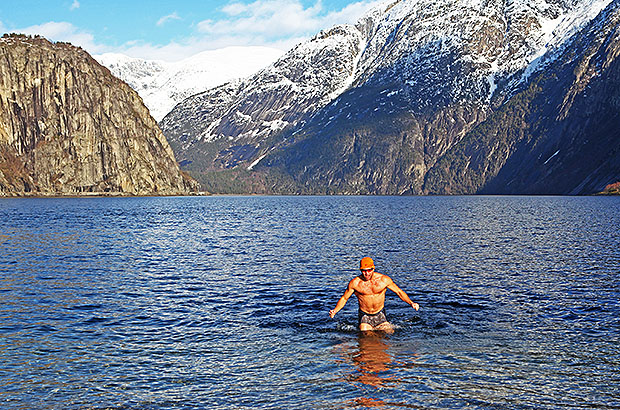 Norway, swimming break in the fjord on the way to Bergen from Hemsedal
The nuance was that a few weeks earlier I had been fairly exhausted by several difficult technical alpine climbs. I ran to the top, enjoying my excellent physical shape, nice weather and the most beautiful views. The task was to set a personal speed record and gain 2 km of altitude from the parking lot to the top in the shortest possible time. After climbing 1200 meters in less than 50 minutes, in an ideal physical condition, I suddenly had a complete dip in energy - my eyes dimmed, I realized that I was losing consciousness. That way my body said - I need sugar, quickly.
Fortunately, everything ended well, I refreshed myself with a chocolate bar, rested, ran to the top, safely went down to the parking lot and left for Barça. Since then, I always try to have a chocolate bar in my pocket, regardless of the complexity and length of the route.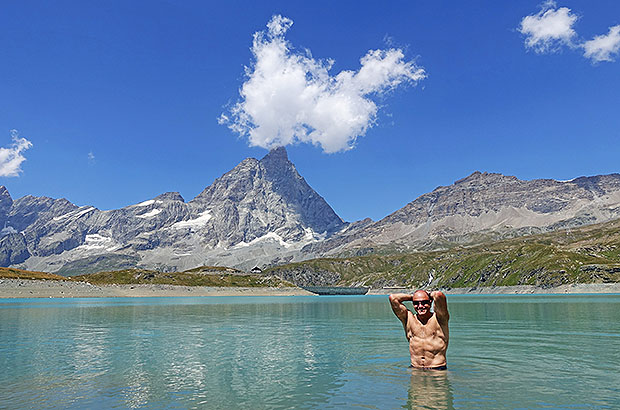 Pure glamor and no extreme - swimming in a mountain lake at the foot of the Matterhorn, Alps, Italy / Switzerland
So, at the end of my story, I want to dilute the lyrics of this text with a few practical tips for those who, unlike the author, prefer to get painful experience by analyzing other people's mistakes.
1. A variety of workouts and activities swing the energy capacity of our "accumulator". Do not confuse "capacity buildup" and training strength or special skills - these are different things. If, for example, you are focused on rockclimbing and aim for a certain category or run a marathon counting the seconds, this is a completely different training tactic. This tactic is effective for optimizing energy expenditure, but it will not be effective for its quality recovery.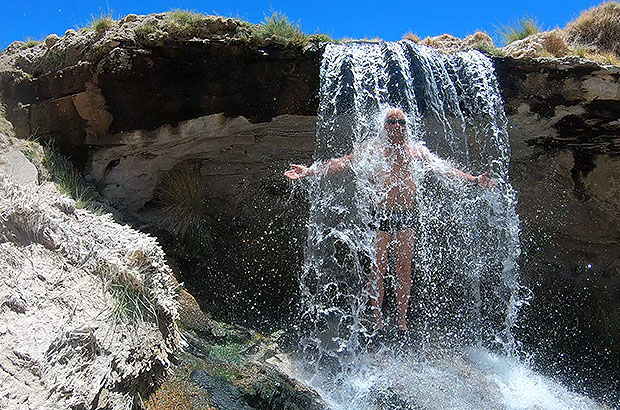 The perfect shower while climbing Ojos del Salado in Argentina
2. Even before I had the idea to formulate all of the above into a theory - I always advised to beginners not to train immediately before going to the mountains, just to get more rest and accumulate maximum energy.
3. You should have an active hobby and not to seek to turn it into a profession - a hobby is the perfect incentive for regular recharging - take care of your hobbies and recharge your energy from them!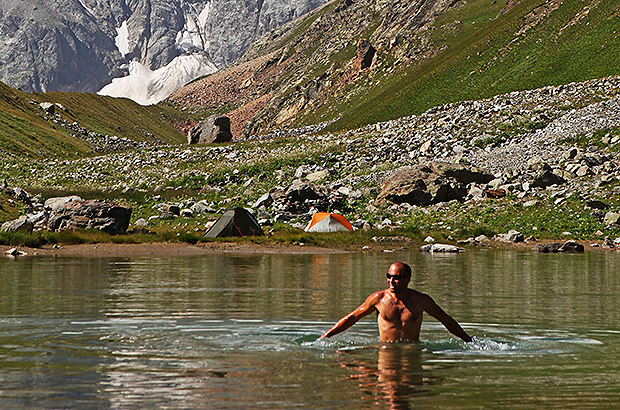 Caucasus. Relaxation in a mountain lake after a difficult climbing ascent
4. Carefully explore the possibilities of your "battery" to the maximum discharge - increasing the intensity of training and building strength, never go beyond comfort and pleasure. Where professional sports begin, there begins a risk zone for getting sick with something professionally specific and being treated for a very long time.
5. Do not forget the story about the horse that plowed the field all its life, but did not become the farm owner - work is good as long as its fruits bring you joy in the present time, but not in the vague future.
6. Do not get into cold water according to the baptism traditions unless you are not specially trained for this - cystitis / prostatitis may not be afraid of the sign of the cross, and then you will have to ask the blessing of the priest for regular visits to medical institutions.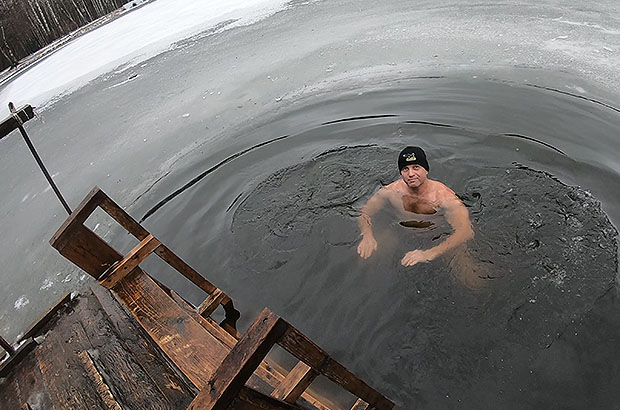 Cold water as a norm of life and a way to regenerate energy
The author of the text, plot and photos - Alex Trubachev
Your professional international mountain guide and climbing coach
MCS EDIT 2023
Our Principles

AlexClimb Rule #1 - Safety First
From the very beginning of our activity, here nearly 16 years, the first Principle of work of School of mountaineering and rock-climbing of MCS AlexClimb is the Safety Priority. On the basis of this Principle all process of training is based, all programs and rounds are developed and carried out only within this main principle. We consider that at professional approach to development of programs, at personal discipline and correctly put motivation - occupations by mountaineering and rock-climbing are COMPLETELY safe. And from the return - all troubles and accidents in our sport come from nonprofessionalism, from ignorance or neglect by elementary standards of safety, from irrational motivation, from revaluation of own forces and opportunities. All these prerequisites we COMPLETELY EXCLUDE in our work - ours Rock-climbing, Ice climbing and Mountaineering are based on one Principle - the Safety Priority. In rock-climbing, mountaineering and ice climbing, the Priority of Safety of MCS AlexClimb-is your personal security and comfort irrespective of, than we are engaged - we train muscles and we work technology of the movement in the sports hall and on the rock climbing wall, we make the way through snowstorm to top or we relax on golden sand of the Caribbean beach after hot day of trainings on rocks. The Safety priority - the main credo of School of mountaineering and rock-climbing of MCS AlexClimb.

AlexClimb Rule #2 - Leave No Trace
Closely interacting with Nature, working with the active programs in mountains, woods, lakes and rivers, we perfectly understand the importance of carefull and respectfull bahavior towards the Nature, for its resources. From the very beginning of our outdoor-activity we adopted rules of Leave No Trace technique - the standard of behavior of the person accepted in all the civilized world in relation to environment and especially - to the wild nature. After all on the relation of people to the nature near which they exist, itself can draw dalekoidushchy conclusions on the relation of these people to... Where and as we didn't travel - we don't reserve any garbage, we try to reduce whenever possible our influence on environment to a minimum. We clear earlier zagryazyonny tourist parking of the left garbage, we take out and we take out to utilization places that to us other people left there. We consider that only thus, at personal individual consciousness of each citizen, each tourist, climber or autotraveller, we will be able to keep the nature surrounding us in its state, natural, suitable for life, - in it pledge of the healthy future for ourselves and our children.

AlexClimb Rule #3 - Sober Concious
The position of AlexClimb Mountain and rockclimbing School regarding healthy lifestyle is quite clear - we consider that only sober consciousness is capable to fill sincere emotions, to sympathize, to enjoy life in all its variety. Bright various enjoyable life is possible only on condition of keeping the absolute sobriety and purity of consciousness. Any way of obscuring our perception of reality is intended to do harm to our consciousness and bring harm to our physical health, to replace the true values by false ones, to destroy us physically - to turn us into flabby, weak, senseless, gray herd with empty hazy eyes. We don't force anybody to our point of view, everyone has a God's gift of making his own choice and to destroy himself if that is what he wants... But in AlexCilimb Mountain Climbing School we accept quite certain and very simple set of rules: neither alcohol, nor drugs.
Настя / Эльбрус
Горы – настоящая любовь, сердце там теперь, конечно) боюсь за стены дома, уже мало места осталось)) В горах всё переходит на режим простой жизни и выживания, всё остальное уходит далеко – тревоги, беспокойства, страхи – всё мельчает и истончается, теряет значимость. Здесь реально знакомишься с собственной силой и слабостью, с изворотливостью ума, который привык скакать и создавать себе проблемы) Здесь ты общаешься напрямую с душой своего напарника и при этом вы не лезете друг другу в душу… Здесь ты общаешься напрямую с природой, наконец понимая, что это наша Мать, земля, она огромная и сильная, и мы её часть и с ней надо бережно, тк несмотря на силу и она бывает хрупкой… Здесь конечно с интересом узнаешь о том, что такое твои личные пределы и просто принимаешь и миришься с ними И во всем этом ловишь ни с чем несравнимый кайф! От чего?! От состояния другого восприятия себя и мира, и мира в себе, и себя в мире… . Выход из коробочки. Для меня это не выход из зоны комфорта – это обнаружение комфорта в дискомфорте. А это как раз про силу и ресурс! Кстати, каждый день я делала медитации, которым обучалась у Михаила Романовича Гинзбурга. Это вообще отдельная история. Именно там, в горах, на каком-то особом уровне прочувствовалась мудрость и глубина простых слов этих медитаций, которые, кстати, со многими из вас мы делаем на наших занятиях))
2022-07-01
Константин / Ледолазание
Собираюсь в следующем сезоне попробовать себя на технических маршрутах. Навыки лазания по льду и миксту - очень полезные, на скалодроме такому не научишься. Спасибо организаторам за интересно и с пользой проведённое время! Особенно запомнился кайф ходить в сауну после целого дня занятий на морозе!
2021-01-23
Дмитрий / Ледолазание
Спасибо за отлично проведённое время! Дружная и очень позитивная команда, приятно было с вами тренироваться и отдыхать! За неделю получил массу полезных навыков и ярких впечатлений, теперь понимаю к чему нужно стремиться и как готовиться
2021-01-16
Все отзывы