What difficulties climbers will face in the process of climbing Mount Elbrus?
For a professional climber, such form of the question sounds rather strange. After all, the stage when the mountains gave us their first lessons is gone long ago and forgotten. But, if you look at this question from the point of view of a beginner, you can understand that many obvious answers are hidden under a layer of enthusiastic descriptions, boasting and tales of reckless valor.
To answer this question, I will try to go back for 25 years, so that, from the point of view of a person who came to the mountains for the first time, to formulate the difficulties that led to failures during the first years of my mountaineering activities. By the way, I succeeded with climbing the summit of Elbrus only from the third attempt - the first two attempts were unsuccessful due to completely obvious mistakes that now seem stupid, but at that moment I considered them heroism and courage.
The first difficulty is the transformation of your desire to intention.
The first thing I'll start with this is the difficulty of making a decision. Do you like mountains on the monitor screen and photos in the magazine? Believe me, when you find yourself face to face with the mountains - the impression will be completely different. And your perfect picture can be very messed up. Ready for it?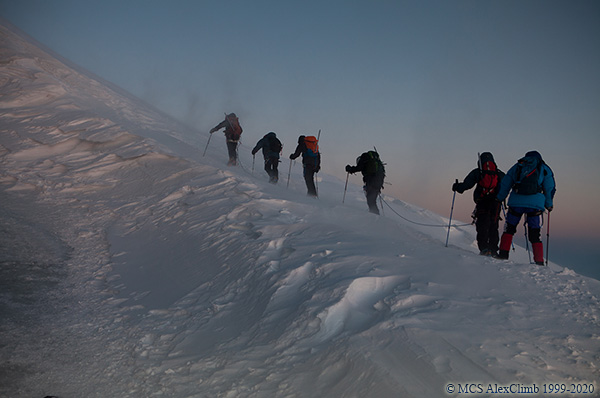 Once, we decided to climb the highest mountain of Altai - the beautiful Mount Belukha. Having looked at the paintings of Roerich, we were preparing for an unforgettable experience of climbing the incredibly beautiful peak. But, as it is usual in the mountains, everything went wrong from the very beginning. Three days of champing with our butts in a wet saddle on a wet, but (fortunately) warm horse. A week under continuous rain, during the days in wet clothes, wet shoes, during the night in a wet sleeping bag. Then - a couple more days under the same rain, but ourselves being as horses - under the wet, splashing backpacks...
Then - icicles on the nose and ears, a knife-sharp wind with snow. And absolutely no beautiful views. Not at all. If Altai had not taken pity on us at that time, then most likely I would have nothing to write about now... However, a miracle happened, and as if by the sign of an invisible conductor, the curtain of snowstorm was lifted above the mountains. And then everything went as the famous Russian bard sang in his song about his heart lost in the mountains ... In general, any crazy persistence leads to irreversible consequences.
So, the first rule of a climber - the decision to climb the summit should be firm as rock. That is, to differ qualitatively from the desire or wish, which, most likely, will successfully bring you to the restaurant closest to Elbrus, and there you will be lost to the mercy of fate in the company of good Balkarian barbecue and Nalchik beer.
If you have a desire to get into the topic of decision-desire-motivation and the psychological background of mountaineering, you can read my article about "Point of Internal Morality".
The second difficulty: climbing is not an activity to do alone. Choosing a team to climb with.
Suppose you have made a firm decision. The next step is to choose a team to go with to the mountains. Suppose you have friends with whom you are ready for fire and water. But for a successful ascent, this is not enough. The success of the entire event largely depends on the solution of this particular problem.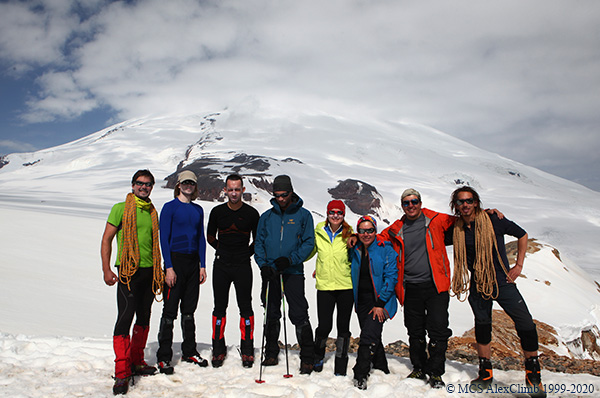 My first failure with climbing Mount Elbrus happen to me at the very beginning of my climbing career. Along with my desperate but as inexperienced climber as I was, we decided to try to climb Mount Elbrus in winter along the East Route - taking into account how strong we thought we were, easier options just were not considered. We made a bunch of mistakes, almost died in an avalanche, almost got frozen after falling into a terrible snowstorm for several days and turned back from the middle part of the approaches to the route. As it usually happens with real beginners, getting down to the valley, we felt ourselves real heroes, blaming the bad weather and a combination of circumstances as a reason for our failure. In order to climb the summit, and, more importantly, to descend from it safe and sound, you need experience and knowledge of the route. If one or the other is missing, then you should look for a guide. And it is not that easy.
Today on Mount Elbrus there is a lot of people wishing to gain some experience and financial resources. It is not an appropriate comparison with the flies, but the meaning, alas, is understandable. Not all that glitters is gold, but sometimes rather the opposite! Practical advice - beware of "cats in a poke" and "pseudo-guides", personally get acquainted with the person who will take responsibility for your life and health while climbing Mount Elbrus. Having found an experienced and qualified guide, you will immediately get solution on several of the following issues - the selection of equipment, the selection of optimal periods for climbing, the selection of a route that matches your experience and physical fitness.
Third difficulty: physical fitness and preparation for the climb
Climbing is a great reason to keep fit. The peculiarity of the load on the body in the mountains is such that you are required to be enduring, strong, agile. The combination of these qualities opens for you the possibility to climb mountains that are much more difficult than Mount Elbrus. Also that significantly improves the quality of your daily life. You can agree, agility and activity are needed not only in the mountains! Climbing a summit is a beautiful goal and a serious reason to lead a healthy lifestyle and engage in a variety of sports. The secret of ideal preparation for climbing lies in the diversity of physical activity.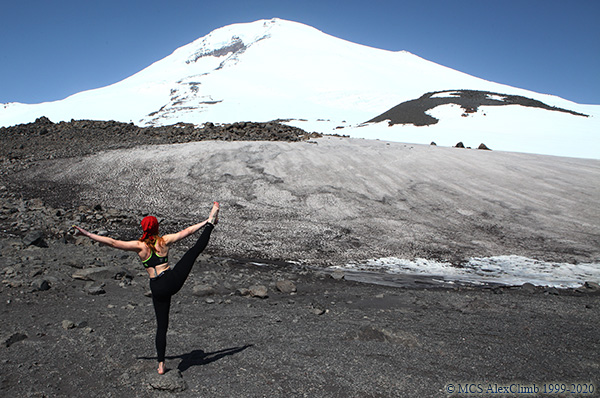 From my own experience, I can say that at first I thought it would be easy to climb Mount Elbrus if I start running 10 km every day a month before climbing. But a month later it turned out that the summit of Elbrus is as far as at the time of my previous attempt. My body did not have enough plasticity to switch from the running training on the plain to the multifaceted load that the body encountered in the mountains. Subsequently, I realized that daily exercises in various sports - running, climbing, swimming, gymnastics - have a much better effect on my feelings in the mountains, on the speed of acclimatization process and confidence in moving on a difficult mountain terrain, than focusing on any one type of activity.
After I spent more than half of my life in the mountains, I have the right to share my observation: at the beginning of your hobby for the mountains, in order to climb the peaks, you spend a lot of time and sources for preparing and maintaining physical fitness, years later - the mountains return your investments - in the form of good health, strong immunity and prolongation of the active phase of your youth!
You can get more practical tips on the physical preparation for climbing Mount Elbrus in a special article in this section.
Fourth difficulty: selection of equipment
The complexity of this issue lies in the variety that you will encounter in specialized stores offering climbing equipment, clothing and shoes for mountaineering. Dealing with so wide choice without experience is almost impossible. Nevertheless, the question of the optimal choice of a set of clothes and footwear is critically important - once again I repeat, that not only the success and comfort of climbing depends on this, but your life and health. As mentioned above, if you have a professional team and an experienced mentor, you always can get competent advice. For my part, I can offer you to read my article on the selection of clothing and equipment for climbing Mount Elbrus, in which I share my experience based on more than a hundred successful ascents of Mount Elbrus by the various routes.
The fifth difficulty is an altitude acclimatization.
Finally, the long-awaited moment has come. The plane touched the ground with its wheels, passed over the runway and stop in front of the squat building of the Nalchik airport terminal. It seems - there it is, Mount Elbrus - just a stone's throw, we saw it so close from an airplane! Now, just a few days separate us from the desired goal. Many beginners at this hour are concerned about the question - is it time to order a sauna and a banquet for the evening after climbing? So, no I have to upset you - you have to wait with a sauna and a banquet. And ahead of us is the most difficult part of the Elbrus climbing program – an acclimatization. How can that be so? If we are so strong and courageous that we are going to climb Mount Elbrus, what could be easier than to climb the small surrounding hills?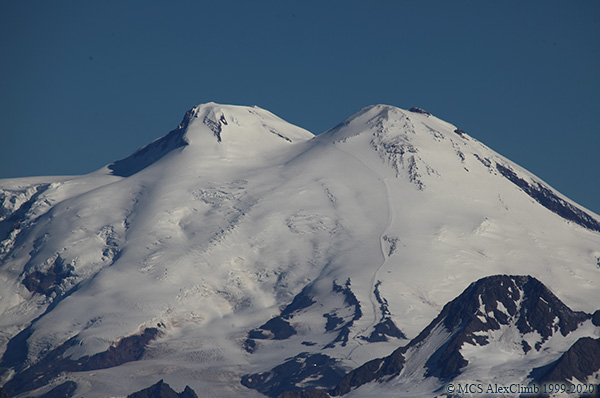 However, a lot of failures befall new alpine recruits precisely during acclimatization, when the body urgently changes from the usual rhythm to completely new high-mountain loads. Some "pleasant surprises": the small nearby hills suddenly turn out to be not so small at all. They turn out to be so huge that your decision to continue the program on Elbrus can seriously shake. Walking up in the first days of acclimatization to the altitude of 3000-3500 meters, you fully realize the seriousness of the task. Now comes the moment of the next difficulty - to grit your teeth and continue, no matter how strong your couch nostalgia can be. If you succumb to the craving for soft pillows - everything is lost, the embryo of mountaineer inside of you will die without being born.
The need for quality acclimatization before climbing Mount Elbrus is described in the thematic article in this section. Here I want to remind once again that it is the first week of your stay in the mountains - this is the most dangerous and important time when, regardless of your preparation, your body can malfunction. This can happen because of the violation of the acclimatization schedule, excessively fast altitude gain, physical overload in the first days of the program. Having repeatedly convinced in my own experience of the importance of smooth and consistent acclimatization, I categorically do not recommend forcing an acclimatization schedule or abandoning it altogether (in the "blitz" format of ascent — without acclimatization). Such actions can cause serious and irreparable damage to your health.
In conclusion, I want to say: the mountain goal that you set for yourself is not just a whim or a wish. If you cope with these difficulties, then a door will open before you in a new dimension - the vertical world of mountain peaks, each of them is worthy to be a dream and a desired goal. Such reward is really worth investing all means and forces for reaching that goal.
Text — Alexey Trubachev, founder of the MCS AlexClimb mountaineering and climbing school.
Other related questions:
Our Principles

AlexClimb Rule #1 - Safety First
From the very beginning of our activity, here nearly 16 years, the first Principle of work of School of mountaineering and rock-climbing of MCS AlexClimb is the Safety Priority. On the basis of this Principle all process of training is based, all programs and rounds are developed and carried out only within this main principle. We consider that at professional approach to development of programs, at personal discipline and correctly put motivation - occupations by mountaineering and rock-climbing are COMPLETELY safe. And from the return - all troubles and accidents in our sport come from nonprofessionalism, from ignorance or neglect by elementary standards of safety, from irrational motivation, from revaluation of own forces and opportunities. All these prerequisites we COMPLETELY EXCLUDE in our work - ours Rock-climbing, Ice climbing and Mountaineering are based on one Principle - the Safety Priority. In rock-climbing, mountaineering and ice climbing, the Priority of Safety of MCS AlexClimb-is your personal security and comfort irrespective of, than we are engaged - we train muscles and we work technology of the movement in the sports hall and on the rock climbing wall, we make the way through snowstorm to top or we relax on golden sand of the Caribbean beach after hot day of trainings on rocks. The Safety priority - the main credo of School of mountaineering and rock-climbing of MCS AlexClimb.

AlexClimb Rule #2 - Leave No Trace
Closely interacting with Nature, working with the active programs in mountains, woods, lakes and rivers, we perfectly understand the importance of carefull and respectfull bahavior towards the Nature, for its resources. From the very beginning of our outdoor-activity we adopted rules of Leave No Trace technique - the standard of behavior of the person accepted in all the civilized world in relation to environment and especially - to the wild nature. After all on the relation of people to the nature near which they exist, itself can draw dalekoidushchy conclusions on the relation of these people to... Where and as we didn't travel - we don't reserve any garbage, we try to reduce whenever possible our influence on environment to a minimum. We clear earlier zagryazyonny tourist parking of the left garbage, we take out and we take out to utilization places that to us other people left there. We consider that only thus, at personal individual consciousness of each citizen, each tourist, climber or autotraveller, we will be able to keep the nature surrounding us in its state, natural, suitable for life, - in it pledge of the healthy future for ourselves and our children.

AlexClimb Rule #3 - Sober Concious
The position of AlexClimb Mountain and rockclimbing School regarding healthy lifestyle is quite clear - we consider that only sober consciousness is capable to fill sincere emotions, to sympathize, to enjoy life in all its variety. Bright various enjoyable life is possible only on condition of keeping the absolute sobriety and purity of consciousness. Any way of obscuring our perception of reality is intended to do harm to our consciousness and bring harm to our physical health, to replace the true values by false ones, to destroy us physically - to turn us into flabby, weak, senseless, gray herd with empty hazy eyes. We don't force anybody to our point of view, everyone has a God's gift of making his own choice and to destroy himself if that is what he wants... But in AlexCilimb Mountain Climbing School we accept quite certain and very simple set of rules: neither alcohol, nor drugs.
Настя / Эльбрус
Горы – настоящая любовь, сердце там теперь, конечно) боюсь за стены дома, уже мало места осталось)) В горах всё переходит на режим простой жизни и выживания, всё остальное уходит далеко – тревоги, беспокойства, страхи – всё мельчает и истончается, теряет значимость. Здесь реально знакомишься с собственной силой и слабостью, с изворотливостью ума, который привык скакать и создавать себе проблемы) Здесь ты общаешься напрямую с душой своего напарника и при этом вы не лезете друг другу в душу… Здесь ты общаешься напрямую с природой, наконец понимая, что это наша Мать, земля, она огромная и сильная, и мы её часть и с ней надо бережно, тк несмотря на силу и она бывает хрупкой… Здесь конечно с интересом узнаешь о том, что такое твои личные пределы и просто принимаешь и миришься с ними И во всем этом ловишь ни с чем несравнимый кайф! От чего?! От состояния другого восприятия себя и мира, и мира в себе, и себя в мире… . Выход из коробочки. Для меня это не выход из зоны комфорта – это обнаружение комфорта в дискомфорте. А это как раз про силу и ресурс! Кстати, каждый день я делала медитации, которым обучалась у Михаила Романовича Гинзбурга. Это вообще отдельная история. Именно там, в горах, на каком-то особом уровне прочувствовалась мудрость и глубина простых слов этих медитаций, которые, кстати, со многими из вас мы делаем на наших занятиях))
2022-07-01
Константин / Ледолазание
Собираюсь в следующем сезоне попробовать себя на технических маршрутах. Навыки лазания по льду и миксту - очень полезные, на скалодроме такому не научишься. Спасибо организаторам за интересно и с пользой проведённое время! Особенно запомнился кайф ходить в сауну после целого дня занятий на морозе!
2021-01-23
Дмитрий / Ледолазание
Спасибо за отлично проведённое время! Дружная и очень позитивная команда, приятно было с вами тренироваться и отдыхать! За неделю получил массу полезных навыков и ярких впечатлений, теперь понимаю к чему нужно стремиться и как готовиться
2021-01-16
Все отзывы