Georgia Rockcimbing spring 2019
Georgia. Rockclimbing vacation spring 2019.
Short review from the MCS AlexClimb rockclimbing collection - rockclimbing in Georgia by Alex Trubachev
The description of the program - here!
Rockclimbing in Georgia - first experience of climbing guide. Article from the collection "MCS AlexClimb Rockclimbing Geography"
It was difficult, but we did it! Despite the attacks of khinkaly and diving in the sea of the homemade wine, our girl's climbing team under my strict professional guidance, kept the athletic mood and (!) the potential for training!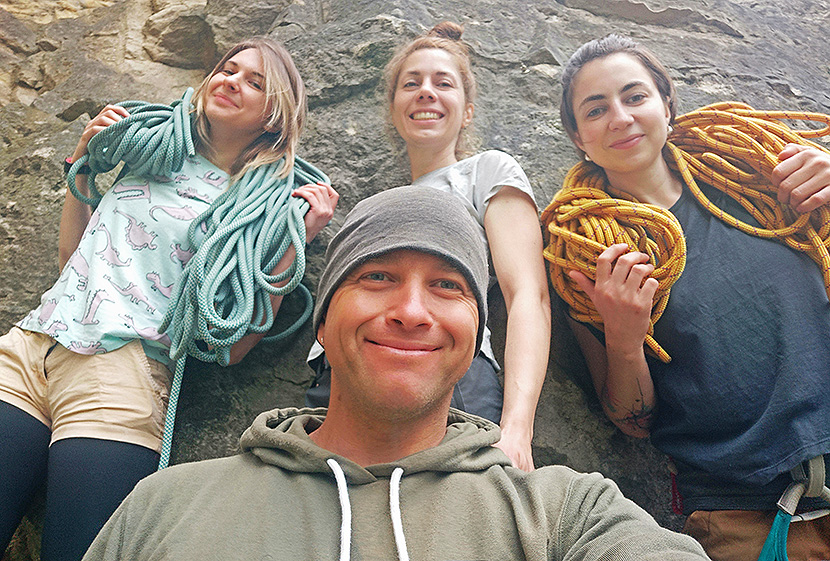 In this season, for the first time, I decided to add a climbing program in Georgia to the MCS AlelxClimb School's climbing trips collection - just could not deny myself this pleasure. We could, of course, be as usual and go to the undoubtedly beautiful Majorca and elbow our way through the crowds of cyclists there. Or go to the hyper-climbing island of Kalymnos, where put our noses to the rocks and see nothing more arownd. About Crimea I am just expressively silent. However, May is the only one and not a single minute of this beautiful time should be lost or spent with insufficient profit. So, quite logical rockclimbing choice fell on Georgia: where, if not in this country, in spring you can eat, breathe and enjoy the glory of the mountains because spring in Georgia is a separate reality, filled with the scent of blooming of the countless flowers and the singing of birds!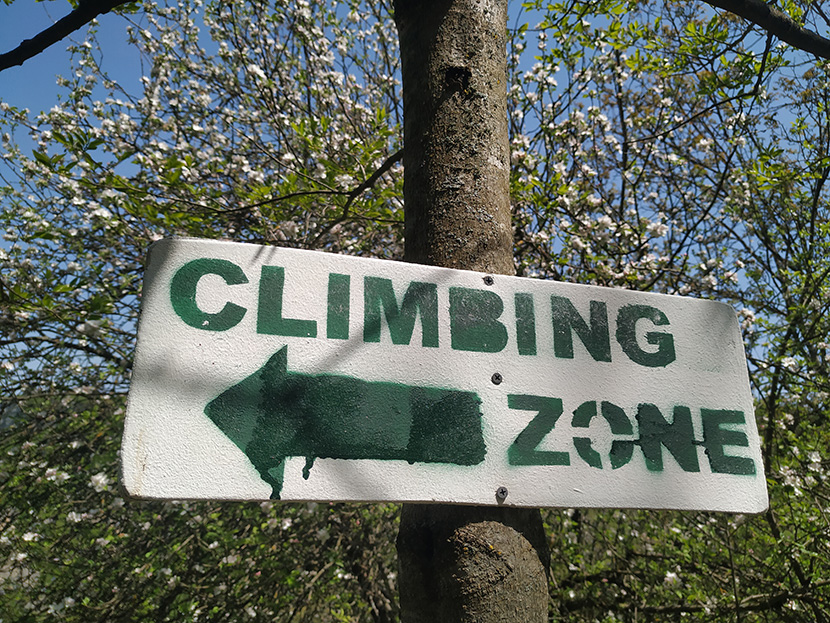 I already did the rockclimbing blocks in Georgia in parts, a lot of great sightseeing attractions were repeatedly circled around, but to collect all the ingredients in one program, specifically rockclimbing, was somehow beyand the reach of my hands. And now the dream has come true! The result was a bright mix of climbing workouts, excursions, Georgian cuisine, a certain amount of wine, and even off-road adventures.
The idea of the program was to introduce the participants to an amazing country and make a route based on the rockclimbing, but also seriously filled with both natural beauties and historical sights of which Georgia is absolut world Champion. The task is very complex - select from the huge number of beautiful and interesting places the most beautiful and interesting, and even box it into the format of a workout rockclimbing vacation.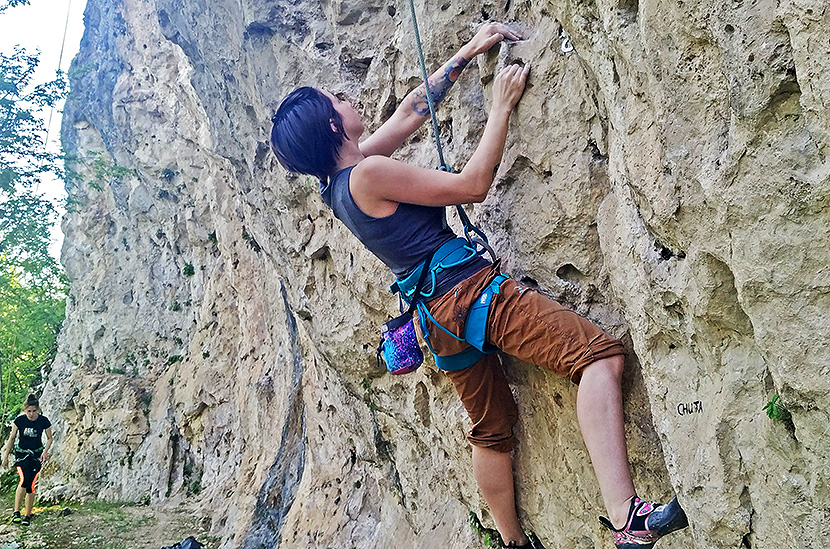 We started our testing of Georgia from Tbilisi and Gori, this is understandable - bright, clean and quite European Tbilisi, a mixture of ancient and modern history, quiet and cozy Gori, the museum of Stalin, the fortress of Goristzikhe. Then immediately go climbing - the fantastic Katskhi canyon with a monastery on a rocky column, Chiatura - the city ​​of miners and flying rusty trailers, incomparable green Sveri gorge. All rockclimbing sectors are well maintained, tidy and civilized. Routes are bolted safely, without excessive spans and unnecessary adrenaline - special thanks to the author and pusher of climbing progress in Georgia Guga Dabrundashvili - the Georgian rockclimbing pioneer and my personal friend.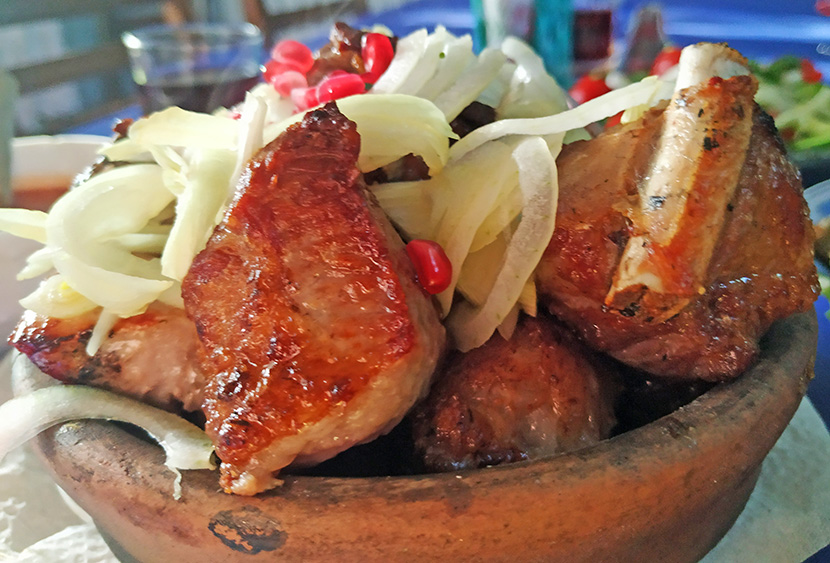 Then immediately, without stopping we drive to beautiful town Akhaltsikhe, went to the excursions to the fantastic Sapara monastery where the singing of the monks merges with the birds singing and everywhere is the spring riot of blooming of everything that has not even turned green. Then did the trip to a bit too touristy, but necessary to visit Vardzia. Then went to Abastumani, the place of the death of Tsarevich Alexander (not many people even in Russia know about this historical fact). And then we did an desperate attempt to drive to Kutaisi through the Zek pass, but in that did not succeed - that was the only misadventure of the whole program. With all the pleasure of 20 km of winding ground serpentine and enchanting views of all the surrounding mountains, the pass was not possible to cross - 500 meters before the saddle, the road was dug up so dip that even my very off road truck did not dare to try. In general, 50 km from Kutaisi, I had to turn around and make a detour of 200 km. Perhaps this was the only event in the program that did not bring the expected pleasure.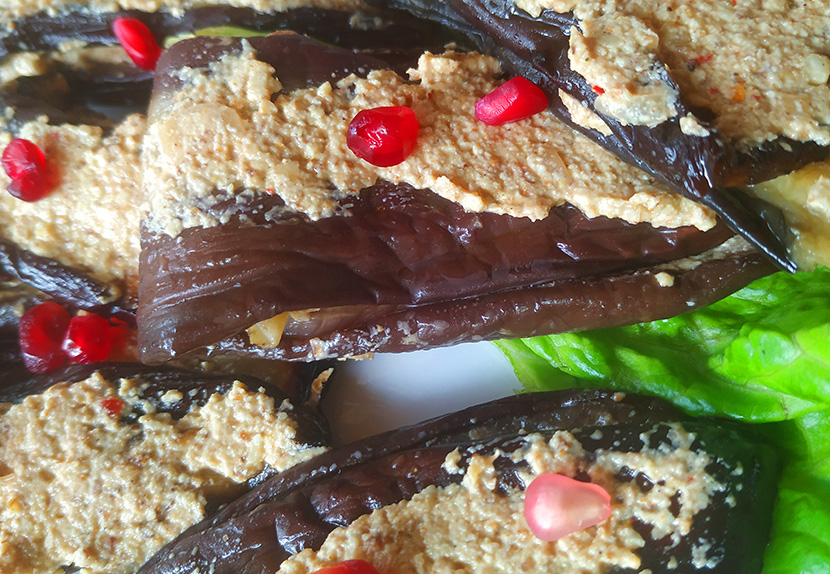 Kutaisi met us with rain, but we managed to rockclimb the rocks there and even the weather did not turn off our training schedule. A visit to the beautiful orthodox churches and the Historical Museum perfectly helped to cope with mild accumulated fatigue. The final of the program was planned on the wonderful natural rockclimbing wall in the heart of Tbilisi - in the Botanical Garden, however, the weather made adjustments, and we held a rockclimbing session at the indoor climbing gym. By the way, a very modern and pleasant in all respects 10 m high hall. The final day spontaneously turned into a trip to David Gareja - one more unique place on the border of Georgia with Azerbaijan. The oldest monument to the Christian history of Georgia, located in the incredible colored hills.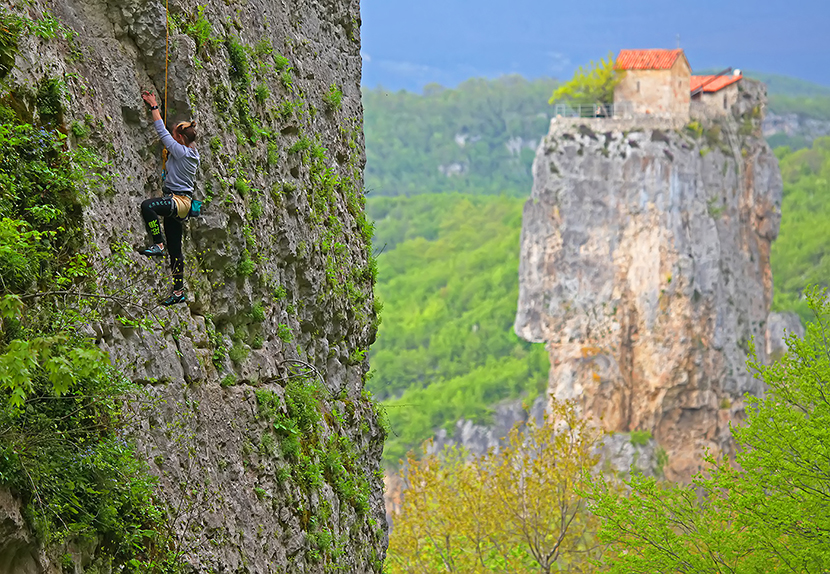 Well then... I am pleased that my first rockclimbing pancake in Georgia did not come out lumpy. I hope that a light positive confusion from this trip will compose in the memory of the participants into bright and different impressions as that is the very essence of Georgia - bright, infinitely diverse, positive and God-treated country!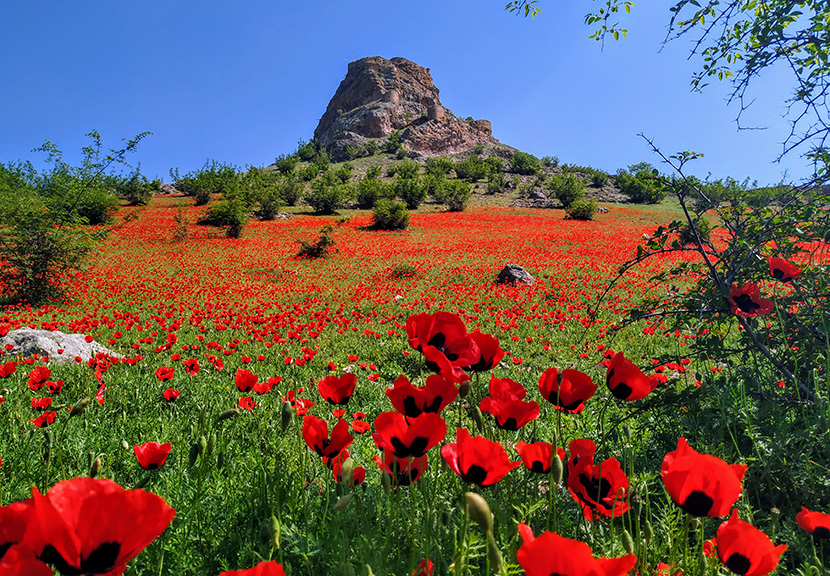 So my next rockclimbing program in Georgia quite logically falls on the schedule from 15th of October and will be compiled taking into account all the shortcomings of the pilot version information about it is already on the web page
Yes, and I want to prepare your mind not to overheat from our future plans - rockclimbing in Iran - but these are the ideas for the next season.
Our Principles

AlexClimb Rule #1 - Safety First
From the very beginning of our activity, here nearly 16 years, the first Principle of work of School of mountaineering and rock-climbing of MCS AlexClimb is the Safety Priority. On the basis of this Principle all process of training is based, all programs and rounds are developed and carried out only within this main principle. We consider that at professional approach to development of programs, at personal discipline and correctly put motivation - occupations by mountaineering and rock-climbing are COMPLETELY safe. And from the return - all troubles and accidents in our sport come from nonprofessionalism, from ignorance or neglect by elementary standards of safety, from irrational motivation, from revaluation of own forces and opportunities. All these prerequisites we COMPLETELY EXCLUDE in our work - ours Rock-climbing, Ice climbing and Mountaineering are based on one Principle - the Safety Priority. In rock-climbing, mountaineering and ice climbing, the Priority of Safety of MCS AlexClimb-is your personal security and comfort irrespective of, than we are engaged - we train muscles and we work technology of the movement in the sports hall and on the rock climbing wall, we make the way through snowstorm to top or we relax on golden sand of the Caribbean beach after hot day of trainings on rocks. The Safety priority - the main credo of School of mountaineering and rock-climbing of MCS AlexClimb.

AlexClimb Rule #2 - Leave No Trace
Closely interacting with Nature, working with the active programs in mountains, woods, lakes and rivers, we perfectly understand the importance of carefull and respectfull bahavior towards the Nature, for its resources. From the very beginning of our outdoor-activity we adopted rules of Leave No Trace technique - the standard of behavior of the person accepted in all the civilized world in relation to environment and especially - to the wild nature. After all on the relation of people to the nature near which they exist, itself can draw dalekoidushchy conclusions on the relation of these people to... Where and as we didn't travel - we don't reserve any garbage, we try to reduce whenever possible our influence on environment to a minimum. We clear earlier zagryazyonny tourist parking of the left garbage, we take out and we take out to utilization places that to us other people left there. We consider that only thus, at personal individual consciousness of each citizen, each tourist, climber or autotraveller, we will be able to keep the nature surrounding us in its state, natural, suitable for life, - in it pledge of the healthy future for ourselves and our children.

AlexClimb Rule #3 - Sober Concious
The position of AlexClimb Mountain and rockclimbing School regarding healthy lifestyle is quite clear - we consider that only sober consciousness is capable to fill sincere emotions, to sympathize, to enjoy life in all its variety. Bright various enjoyable life is possible only on condition of keeping the absolute sobriety and purity of consciousness. Any way of obscuring our perception of reality is intended to do harm to our consciousness and bring harm to our physical health, to replace the true values by false ones, to destroy us physically - to turn us into flabby, weak, senseless, gray herd with empty hazy eyes. We don't force anybody to our point of view, everyone has a God's gift of making his own choice and to destroy himself if that is what he wants... But in AlexCilimb Mountain Climbing School we accept quite certain and very simple set of rules: neither alcohol, nor drugs.
Константин / Ледолазание
Собираюсь в следующем сезоне попробовать себя на технических маршрутах. Навыки лазания по льду и миксту - очень полезные, на скалодроме такому не научишься. Спасибо организаторам за интересно и с пользой проведённое время! Особенно запомнился кайф ходить в сауну после целого дня занятий на морозе!
2021-01-23
Дмитрий / Ледолазание
Спасибо за отлично проведённое время! Дружная и очень позитивная команда, приятно было с вами тренироваться и отдыхать! За неделю получил массу полезных навыков и ярких впечатлений, теперь понимаю к чему нужно стремиться и как готовиться
2021-01-16
Martin / Norway Iceclimbing
Thank you Alex for really cool time! The best environment for Iceclimbing I ever seen! Really useful skills on the vertical ice and mix terrain as well as very healthy time on skies! Outstanding program for those who want to improve their climbing level - hope to join your team next year!
2020-04-15
Все отзывы