Articles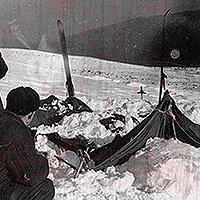 Somehow suddenly surged up interest in ancient tragedy that almost sunk into oblivion without giving any reason and facts.
Only automatically translated version is available at the moment, sorry for the inconvenience.
But just this innuendo and returned to life gloomy ghosts of those who never returned from the snowy taiga in winter 1959. We played a terrible toy, turning a puzzle. But if it becomes easier, if we decide? Will the dark history of this even darker? Here - just a guess, private point of view, with no claim to anything, and God forbid - without judgment. If judge who - so it is those who are the amusement of the crowd pulled out of the grave old bones and gave them a vulgar farce, clownery - to their advantage, and the other on the fun.
more...